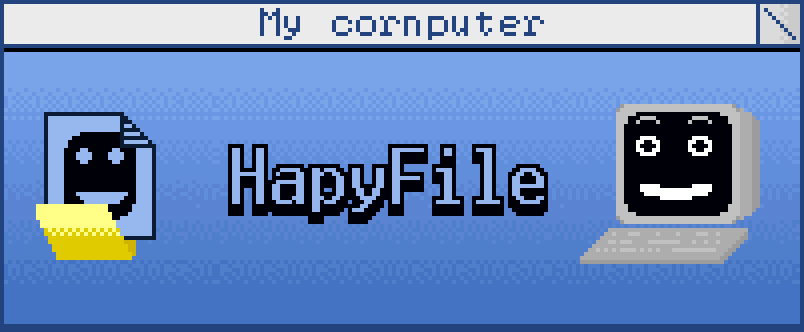 HapyFile
Help a lost computer file find their way home in HapyFile! A 90's desktop OS-flavoured puzzle-platformer where you don't control the player!

Created as an entry for the Game Maker's Toolkit Jam 2018 for the theme "Genre Without Mechanic."

A HTML5 online build is available (you may need to use Firefox or another browser), but the Windows or Mac downloadables are recommended as they are much more optimised. You may need to enable cookies for the web build version of this game to work!

Post-jam update: A MacOS downloadable version is now available
An exhibition build is also available - see notes below

Controls
- Double Clicking icons will open useful desktop applications for your lost file
- Drag and drop windows to move them around the screen
- Single click in the top right corner of apps to close them
- The ⏪Rewind button in the bottom left will move the file back to it's original position
- Clicking the 🔁Restart button will close all windows, move icons and files back to their original positions


Options (Windows downloadable only)
- F8 and F9 - Adjust window size (windowed mode)
- F11 - Toggle fullscreen

Options (Mac downloadable version)
- 8 and 9 - Adjust window size

Tips
- If Jumpy and Springy are on cooldown, they cannot be moved - but they can still be closed!
- Missed a jump? Use the rewind button to speed things up by sending the file back to its original place.
- The restart button moves windows, icons and the file back to their original locations, but rewind will just move the file.
Exhibition build notes: this build is intended for demoing or exhibiting the game. It removes the quit button from the game and will automatically play the trailer after 70 seconds of inactivity, designed for booths, exhibitions etc where the player only has access to a mouse. Press ALT+F4 to exit
Completion stats
- Jam Length - 48 Hours (1 Sep - 3 Sep 2018)
- Development Length - ~36 hours

SFX Content packs used - All SFX have been composited and/or modified from their original sources, and were from the following free/royalty-free sources;
Music, boot tones and victory fanfare created in Logic Pro.

Download
Click download now to get access to the following files:
HapyFile 1.0.0.69.exe
5 MB
HapyFile_OSX.app.zip
4 MB
Exhibition/Demoing build (automatically plays trailer when idle)
5 MB